是說誰會抓美網官網中的採訪影片呀

這個傢伙在Day11 賽後長達15分鐘的記者會訪問真的很有意思呢

比賽中的現場氣氛,讓他硬是把自己撐起來

還在賽後等於是當場嗆聲所有觀眾,好大的膽子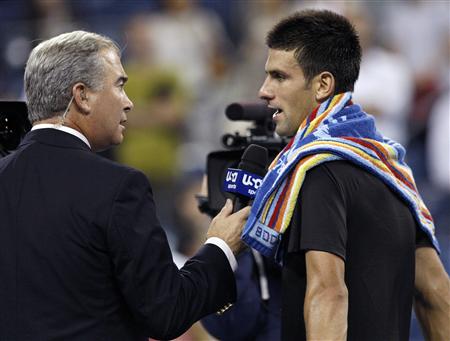 只不過,勝利之後,冷靜下來,還是知道這樣做是不對的

從去年紐約美網的寵兒 到今年處處挨噓, 他一定也感到很委屈

其實,就是那種調調,
有別於當今前兩名球員的地方,才覺得他特別好玩耶

就像當年的馬克安諾,不就很寶嗎

現在摔拍的球員比比皆是,
當時有名的壞脾氣的馬克安諾算不算是摔拍先驅呢?

Djokovic也真的挺會說話的

一度還以為他會委屈的哭出來呢(跟他在球場上的霸氣全然不同)

他又沒有想要跟媒體及群眾作對

大家要這樣想他 他一點辦法都沒有

講到跟Federer的差距的地方

他也是很誠懇的說

講到他今年感受到無比壓力的地方也是很真實

講到他真的在球場上不舒服,
一叫醫療暫停就被人說三道四
真的讓人很無奈

媒體要那樣說他 群眾要那麼噓他

就是那個臨場感,讓他火了起來吧

球員也有自己的個性 當然也要學會管好自己

不想當永遠的第三名,還要繼續努力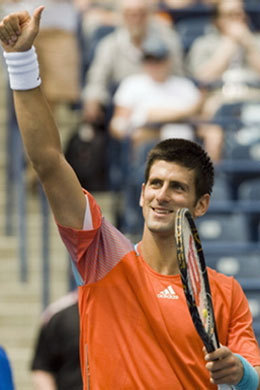 他真的也是很想要在賽後以笑臉面對大家的呀

加油啦 ! 這位很有個性的小子!

***聽這小子Day9 的採訪,只能說,他還是很希望被人愛的啦
Maybe they don't like me anymore.....最後這句話,好像講辛酸的
才會在Day11 一舉發狠勁,做了最好準備------

一個人與兩萬人為敵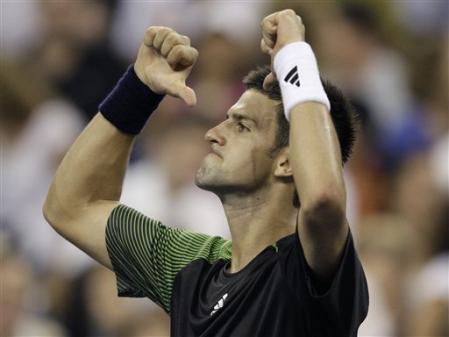 採訪有文字報導,可以做為參考!

Djokovic interview


"I had a very, very tough day yesterday," he said. "Physically, I was feeling very exhausted and very empty. I wasn't able to practice. One of the reasons was physically, and the other reason was that I just mentally had a lot of pressure. Unfortunately, Andy made a statement ‑‑ I don't think it was intentional. He made a joke, and it was a misunderstanding, so I don't blame it on him. OK. I did react on the court. Maybe I exaggerated and reacted bad in that moment. No, I apologize if I reacted like that. But this was just impulsive.

"I had a lot of emotions in last two days. It's not nice when you get that from media all around the world and from players, and I never needed to make any excuses in the press. I know that what I'm doing is right, that I have all the rights to take the medical timeout, that I'm doing it just for the purpose to make my physical condition better, and just that I continue playing better. I never made medical timeout because I wanted to distract the opponent or make the result look worse. I just took the medicals to help me out.

"Maybe the people think that I'm exaggerating with these things, but it's nothing bad. I twist my ankle, I feel bad. I get the pain in the back. I just want to make it right. Andy was always nice to me when I got to the tour, so this was just a clear misunderstanding."

When he came on tour, Djokovic was one the most accessible and easy-going players, but as he's risen to the top of the game, he's lost some of his appeal, as it's much easier to be the class clown when you are a mid-ranked up-and-comer and a lot more difficult when you are chasing the world's top spot. A lot more folks are paying attention to him, and if they feel he's mocking them, some will take umbrage. That's why he's no longer doing impersonations during tournaments.

"It's different," he said. "Once you win the Grand Slam title and win a couple more major events, you get more attention from everybody, and it's logical. I don't want to make any impersonations any more. It's not that I don't want to. This is something that people will get wrong. And this is exactly the reason, and this is exactly the situation I don't want to be in -- fighting with people, with the press, and this is absolutely not me.

"And that's one of the reasons why I stopped doing this. I mean everybody is different. Everybody has different character, different personality and different way of seeing things, on and off the court. I always try to enjoy my life as much as I can, on the court and off the court. People who follow my career know that. And it was all from the positive side of life and just bringing the smiles on the people's faces. Not really insulting anybody. It just turned around now."

While he's about as mentally tough of a younger player as the tour has seen in the past few years, Djokovic is still 21 and has some growing up to do. He copped to his mistake, as did Roddick, but whether he can recover in time to bring out his best against Federer on Saturday is questionable.

Even though he wants to make good with the crowd, he might have lost them on Thursday, and outside of the few hundred Serbian fans who cheered him on (or was it 1,000?), he's all but handed over the rest of the 23,000 to Federer.

"Nothing against the crowd," Djokovic said. "The crowd here in New York, at least I get that feeling, liked me last year, and, really, I had such a fun time last year. In most of the matches I played, I have not enough words to thank them. I just don't want this to happen in a bad way. We had this connection, and this year, of course, this match, I mean, I didn't expect the crowd would be behind me. It's obviously that they will be for the home player and for Andy, you know -- their biggest hope to win the US Open. I felt bad in the end."