故事就這樣

Djokovic through after scare

如果不是羅馬尼亞大高個場上受傷
Djokovic一不小心就會回家吃自己了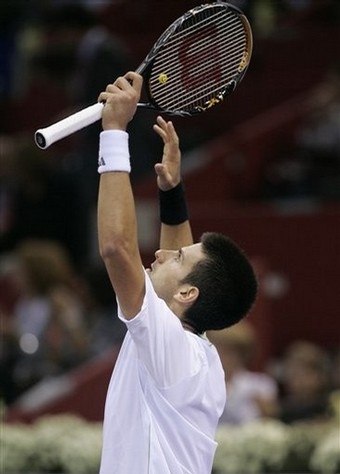 (真是謝天謝天,過關了......)

高處不勝寒,步步都驚險
Djokovic差一點就敗在Victor Hanescu這位世界排名第72,
無論身高或體重卻都比他高10公分及重10公斤的27歲大哥哥手中

空檔間光看看文字實況也跟著緊張,
不過這位管不住自己嘴巴的小哥,在人家傷療時間後決定放棄比賽後
好像又講了些不太得體的話,沒有現場實況,負責播報的人寫的就是,
也不知是真是假,不過前科犯,容易被懷疑
加上球迷又處在半昏迷狀況,看非母語敘述也容易產生誤會
反正,這傢伙就是讓人擔心還免錢的哩

一邊是羽扇綸巾談笑間Federer瀟灑的過關,
這邊是落後猛追,最後靠敵人的悲哀我方的幸運而強渡關山

冠軍之路本就是越走越窄,大家都是走著瞧的!

Djokovic下一關要面對高大的巨人14th seed Ivo Karlovic of Croatia
真的要小心應戰呀

(這一次......受傷的是別人......)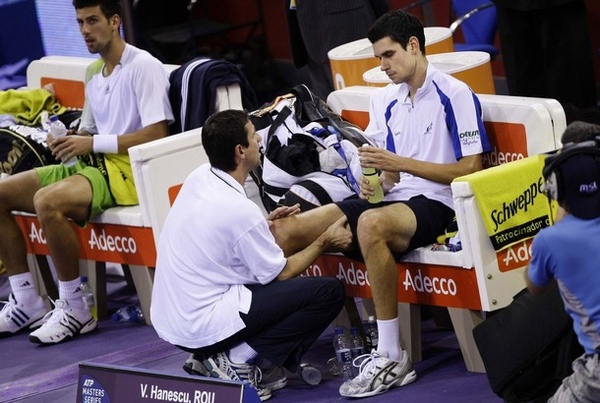 (這次......我有比較乖吧......)


今天 Cilic要對上Murray
沒事來聽聽兩造雙方的 Cilic said, Murray said.




Cilic 說......
Cilic hopes to end Murray surge
Croatian Marin Cilic will try to blow Andy Murray´s late-season surge off course with his booming serves when he plays the Scot on Thursday for a place in the quarter-finals of the Madrid Masters.
Fourth seed Murray needed five sets to beat the 6-foot-6 player in the Davis Cup a year ago, but since then the 20-year-old has leapt almost 100 places in the world rankings to 24, and said he has become a more assured, consistent player.
"I can get some points by attacking Murray, try and be aggressive and also maybe look for some opportunities. I know his first serve is pretty big but the second serve can be up and down," Cilic told Reuters a day after blasting Spain´s Fernando Verdasco out of his hometown tournament.
"I notice that physically he is much better than when I was playing against him last year. He knows how to play everything, to attack, to come to the net. He can change his game, that makes him really tough to beat."
Murray, who lost in the US Open final to Roger Federer in September, is alert to the threat.
He said the fast courts and the thin air of the high Spanish capital ensured an even tougher test from the latest towering Croatian cut from the same mold as Goran Ivanisevic, Mario Ancic and Ivo Karlovic.
Cilic, from Mostar just across the Bosnian border but with a Croatian passport, put recent success down to consistency.
"Things were working well in practice then I would have a problem putting it into a match. In the last two or three months I have been moved those things onto the court".
He has clearly built a head of steam as the season has progressed, beating Americans Andy Roddick in July and Mardy Fish at New Haven in August to clinch his maiden ATP title.
"Winning my first title helped me get more confidence. I´m on a good way with my game which helps me be a more relaxed. I don´t have to have any doubts about what I´m doing."
And as for winning a Grand Slam one day? "Perhaps Wimbledon. I am working on that."



Murray 說.....

Murray wary of Cilic
Andy Murray is anticipating a testing encounter when he takes on "unpredictable" Croatian giant Marin Cilic for a place in the quarter-finals of the Madrid Masters.
Murray progressed through to the third round, after his second-round opponent Simone Bolelli was forced to retire injured while Cilic upset Spanish 13th seed Fernando Verdasco 6-2 6-3
And Murray knows the 20-year-old - who at 6ft 6in is three inches taller than the Scot - could make it very tricky for him saying: "He plays well on these courts; he's a tough player. Cilic's got a big game, serves well, moves pretty well for his height; he's got big groundstrokes and comes into the net a bit."
He added: "He's a bit unpredictable, so I'm going to have to be really focused to win that one."
Murray has faced Cilic just once before, winning an epic encounter 3-6 6-4 6-2 4-6 6-3 during last year's Davis Cup match between Great Britain and Croatia.
Murray has seen enough of Cilic this year to know that he can cause problems for the big boys, though, citing the Croatian's recent matches against Novak Djokovic at the US Open and Andy Roddick in Canada as prime examples.
"He's played well in big matches this year. I think he beat (Fernando) Gonzalez in the Aussie Open, had a tough match with Djokovic in the US Open. He has some chances there and has beaten Roddick," Murray added.
"He's beaten some really good players over the last few months. It will be a very tough match for me. I have to play very well to win."
Cilic, ranked 24 in the world, is likely to be helped by the high-altitude conditions at the Madrid Masters.
"Definitely on these courts, it's quick here. The ball flies a bit; it's tough to keep the returns down in these conditions," said Murray.