This match will be full of big serves
Why?
先看一下球員個人資料:
Marin Cilic (CRO) 28/09/1988
Height 1.98 m Weight 81 kg
Sam Querrey (USA) 07/10/1987
Height 1.98 m Weight 90 kg
這兩位身高一樣高,年齡差一歲的小朋友這次是初次對戰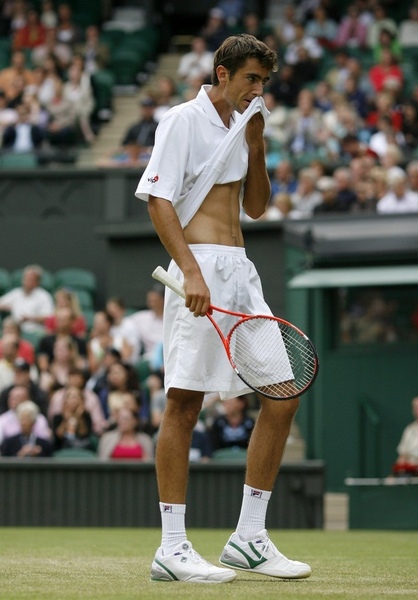 *在中央球場打球有個好處...被媒體選擇播出整場賽事過程的機會比較大*
這兩管198公分的大炮在每個發球局都蓄勢待發
竹竿Cilic發球還好,較壯的美國大炮Querrey更是以發球不手軟聞名
Cilic- Querrey 打出了發球對決的五盤大戰
每個發球局都炮聲轟隆Ace連連,你「love」過來,我「love」過去的。
發球局比穩定比速度,最後一盤前幾局更像快槍手一般
兩個人都咻咻咻咻的連開四發就換人表演似的,感覺誰贏都有可能,
But…Everybody knows 一定會有勝負
Querrey在最後遇上成也發球敗也發球的狀況
一個不小心出現發球Double faults,讓Cilic逮到機會
就這樣…………
4-6,7-6,6-3,6-7,6-4的輸掉了比賽
恭喜Cilic竹竿小子,
之前碰到前十種子,在比分落後時的情緒常常很明顯的寫在臉上
只差沒在額頭上貼上一句「現在輸球中」的標籤…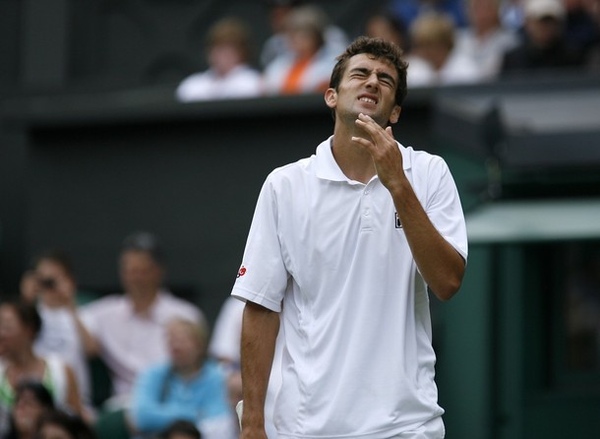 (**球迷的形容的確是誇張了一點點…XD)
不過從昨天這場賽事看來,個性越來越見沉穩了
看著他從後面的名次一步步的向上爬升
在這場溫布頓大賽也已成為第十一種子了
前兩天寶貝打四盤三個多鐘頭,沒想到昨晚輪到竹竿Cilic鏖戰五盤又是三個多鐘頭,不過因為是雙方發球優勢明顯,跟來來回回的底線堅持又不太一樣,雖然在半夢半醒之間,雖然昨晚有聯合會杯西班牙vs美國賽事,不過球迷還是決定相挺Cilic到底……XDD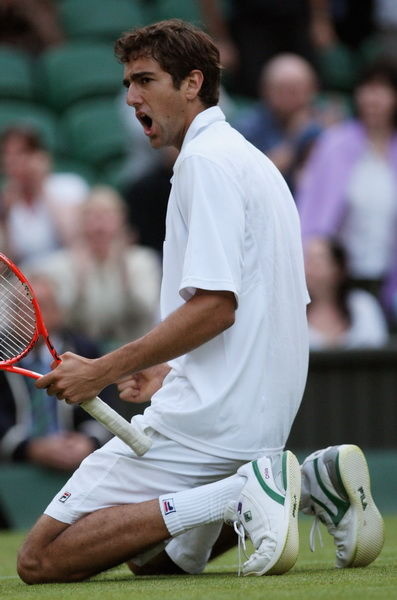 總算Cilic沒讓球迷失望,最後很高興竹竿小子艱苦獲得勝利
下一輪要面對的,是之前在德國哈雷草地賽事中讓寶貝在冠軍決賽中,
繼續擴大集亞軍名次「光榮戰績」的Hass大哥呢
是說寶貝昨天在哪裏?
在球迷回家前就早早直落三的完成賽事,到旁邊涼快去了,
最主要的是,開球時間如果一樣,碰到前有天王級Federer君臨,後有大美女Sharapova跟你鬧衝堂,明顯愛不夠的寶貝自然就不會得到電台的青睞,so….只看到寶貝拿到賽末點前的幾秒鐘Highlight畫面,就算很夠意思了。
而賽後的報導更是簡單扼要,法新社就發這樣的短文而已
Djokovic into third round at Wimbledon
LONDON (AFP) - Novak Djokovic eased into the third round at Wimbledon on Wednesday with a straight sets win over German qualifier Simon Gruel.
The Serbian fourth seed won 7-5, 6-1, 6-4 to set up a meeting with American Mardy Fish for a place in the last 16.
嗯,比起圍繞在Federer和Murray兩人身上的週邊報導,真是"言簡意賅"呀(*亂用成語一下)
不過在綜合溫布頓第三天賽程的報導中,寶貝還是有搶到一點點的「發言權」。
Djokovic eased into a third round meeting with big-hitting American Mardy Fish with a 7-5, 6-1, 6-4 win over German qualifier Simon Gruel, but the Serb was far from buoyant about his prospects for the rest of the tournament.
"I can't say I am genuinely pleased because I had a lot of ups and downs in the match but I'm happy to get through in straight sets," he said.
"I have no expectations, I'm not putting any pressure on myself. Nobody is talking about me and I'm happy with that."
不只如此,提到Federer的時候還是會把寶貝也一併講進去啦
Novak Djokovic, the man Federer is due to meet at the semi-final stage, also advanced to the last 32 but the Serb will be acutely aware that he will have to raise his game significantly if he is to prevent the Swiss maestro from claiming a sixth singles title at the All England Club.
其實沒看到比賽也無所謂,每回看寶貝賽事的Live Comments也挺有意思的呢
在比賽開頭的現場文字報導中出現了這樣好玩的內容:
Yesterday 300 boxes of adidas kit was stolen from Wimbledon...it hasn't affected Novak though, he still has on his bright adidas Wimbledon whites.
哇……300箱的Adidas kit被偷,好嘉在寶貝還有上場的球衣可穿!
哈,現場文字播報的先生有時所寫的內容都挺好玩的哩!
例如說第二盤第一局的報導也是生動的很搞笑
1-0 - Greul plays a cute drop shot which Novak, for once, cannot chase down. That gives him his second break point and he takes it with a smash into the empty court. Novak is furious and slams his racquet down in anger.
上一場才說寶貝很有英國紳士風,沒想到這一場沒兩三下就又現出原形來了。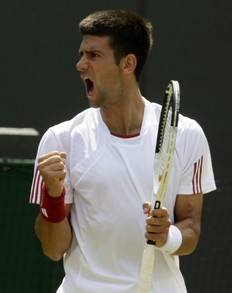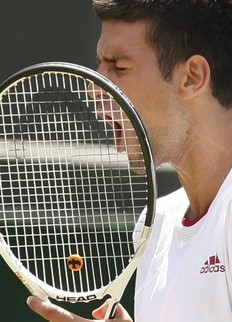 ---想像又吼又叫又摔拍的寶貝也是一種樂趣---
---當然看定格賽後照片也是一樂也---
在這留下三個盤點時的文字播報內容吧
第一盤
5-7 - Greul may want to invest in a cap...perhaps his cap was in that big batch of equipment which was stolen. Novak lobbed the ball deep to the back of the court and Greul hooks the ball wildly long. That gives Novak break point and he seals it when Greul slams the ball into the net.
5-6 - Djokovic's serve gets him out of trouble, when Greul does get near the service he is casuing Novak problems.
5-5 - Novak plays a sensational defensive lob at full stretch which lands six inches inside the baseline. That would be all from Novak, he slammed the next three serves into the net and is clearly struggling to time Gruel's serve.
第二盤
1-6 - What a set from Novak. He takes 6 games in a row with almost faultless tennis. He is two sets up and all but through to the third round.
1-5 - You know when the luck is on your side when the ball ricochets off your opponent's racquet and then when you slam the ball into net chord and it falls safe. Novak breaks Greul's serve to love.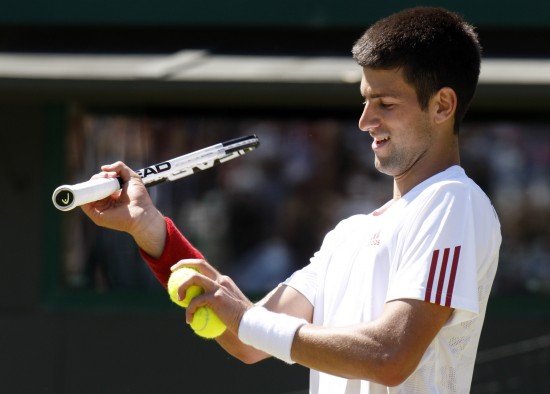 第三盤
4-6 - Novak slides to his left to keep the ball alive and Greul puts the winner long, that gives the Serb two match points, neither of which he can take. He makes no mistake on the third, sealing it with an ace which kicks up at Greul. GAME. SET. MATCH NOVAK DJOKOVIC.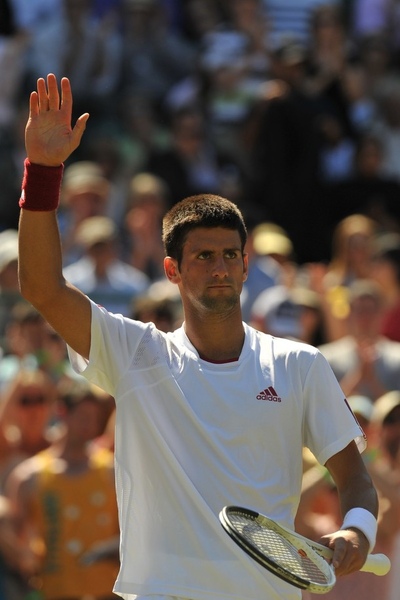 Wimbledon 2009: Novak Djokovic Interview- 24 June 2009
Q. Was it too easy today?
NOVAK DJOKOVIC: No. I don't think it was easy. Actually, I made it more difficult for myself. I think I didn't start really well the match. I was quite nervous, I don't know, just waiting for him to make mistakes, which was obviously wrong thing to do, because he was going for the shots. He's very aggressive and really good return, and he was putting a lot of pressure on my serve.
So I think I was dropping service games in the third set especially when I was up. So this really shouldn't happen in upcoming matches.
Q. I think it was the same round you went out last year, right? You ever have the thought of that when you go out today?
NOVAK DJOKOVIC: No, not really. Well, I didn't have a lot of success last year, so I could think about that. I have no expectations really for Wimbledon this year. I don't try to create a pressure on myself that I need to get far in the tournament. So I just play each match by a time.
Q. When you look at Mardy Fish across the net, what do you see? What are his biggest strengths and challenges to you?
NOVAK DJOKOVIC: Well, he's a big server, so I think any fast surface to play against him is a difficult match. And you have to respect his achievements in last couple of years. Especially on the Grand Slams he's playing really well. We had I think two matches in the last two or three years, and I won them, but it was really close.
So I can't rate myself as a favorite in that match, a big favorite, because I think he's been playing well. It's gonna be interesting. I think the key on my side is going to be return, if I'm going to be able to make him play more than he expects.
Q. What do you think he's improved in the most?
NOVAK DJOKOVIC: Well, he has always been very aggressive. But now he's making less unforced errors, I guess.
Q. You seem to be downbeat about your chances. Clearly you have the game to trouble anybody.
NOVAK DJOKOVIC: Well, I do. I'm aware of my qualities. It's just that I don't want to, as I said, create an extra pressure on myself, because I know how hard it is to deal with it. And I'm happy that the people are not talking about me in this moment.
To be honest, I wish for that so I can really focus on my game and try to perform my best tennis as possible.
Q. Is the crowd important to you here? Do you try to build a relationship with the crowd?
NOVAK DJOKOVIC: Everywhere the crowd is important. And, of course, it's a big advantage if you're able to get the crowd on your side. So I don't know if I have done it or not here.
Q. When you try, what do you try to do?
NOVAK DJOKOVIC: I don't ask from them to cheer me up. But I guess everybody has their own favorite player, so...
Q. You said that you're just as happy people aren't talking about you; that you're not the favorite. Why is it that, and how is it different when you are one of the favorites for you psychologically?
NOVAK DJOKOVIC: Well, it was different, because then there is a lot of side factors, obviously. Media is one, which has an affect on your psychological, you know, situation in the certain moments, in the periods when you play tournament, for example. When I played this year's Australian Open, I had a lot of expectations as the defending champion.
But yet again, I changed the racquet and some things. Of course, I felt a huge amount of the pressure, and I couldn't really deal with it in the best way.
So, as I said, you know, in one way it's great to be on the top. You know, there are a lot of advantages. But, again, disadvantages on the other side.
Q. You're fairly friendly with Gulbis because you trained together.
NOVAK DJOKOVIC: Gulbis, yes.
Q. You know Andy fairly well. As a spectator, how interested are you in that match tomorrow? What do you think about it?
NOVAK DJOKOVIC: I didn't know they're playing each other. But, well, I think maybe they played before on grass in Queen's, yeah. Yeah, Andy has improved, I mean, lots since then. Gulbis is a big hitter, obviously. Andy's gonna try to, I think, calm him down, you know, with the wise style of the game that he has been showing lately.
Q. What have you made of all the hype surrounding Andy Murray at Wimbledon?
NOVAK DJOKOVIC: I don't understand.
Q. What do you think of the hype that surrounds Andy Murray?
NOVAK DJOKOVIC: Well, I have really nothing to think about it. I don't know. He deserves to be supported I think by the media and the crowd because, you know, he's been the best British player in a while. He has a quality to win the Grand Slam, that's for sure.
In the other hand, he has a lot of pressure. You know, when he gets to the court, everybody expects him to play well.
Q. Have you noticed anything in him? Is he still relaxed on the practice courts?
NOVAK DJOKOVIC: Yeah, he has a haircut, different haircut (smiling).
Q. You played on Centre Court the other night. You played on No. 1 today. Was any difference between them?
NOVAK DJOKOVIC: From what I have noticed and experienced, I think Centre Court is a little bit more slippery. I mean, that's how I felt. Maybe it's because of the shade that's been created later in the day on the Centre Court, and that's why the grass gets a little more slippery.
Q. You were saying you felt at the Australian this year you didn't handle the pressure as well as you could. Do you feel that's true of your 18 months since you won the Australian, or do you feel you've done yourself justice, perhaps?
NOVAK DJOKOVIC: Well, depending from which perspective you're looking. Everybody can judge my 18 months, you know, in their way. And everybody has right to think what they want to think.
But maybe some things could have gone the better way. If I can turn things, I would. Again, everything happens for a reason. So, you know, I have changed some things. Obviously I have been dealing with some situations that I have not been dealing before, so it's a learning process.
Hopefully I can gain the experience, you know, which is going to be very good for me and useful in the future.
Q. Clay, grass and hard courts, where would you put your confidence or your best game on the three surfaces?
NOVAK DJOKOVIC: Hard courts have always been my favorite surface. But I have been playing extremely well on clay courts. So I think this year clay courts I've been more successful, if I don't count Roland Garros.
Q. Grass is way down?
NOVAK DJOKOVIC: Well, it's not way down, but I don't think that it's more suitable to my game. But still I think I have this all‑around game which can, you know, do good on all the surfaces.
Q. There's a story in the British press this morning about match fixing in tennis. Can I ask you, have you ever experienced anything like that in your career?
NOVAK DJOKOVIC: Never personally. But, of course, I've heard about it, in many cases that the players have been involved. I cannot say if it's truth or not for individuals. But this is certainly something that we have to fight against, because doesn't deserve a place in our sport.
Q. When you watch Roger Federer, what do you appreciate most?
NOVAK DJOKOVIC: Well, his dedication to the sport, I think. It's amazing just to see the person who has been so successful. I think after five years of dominance, it's just amazing to see him again motivated to play well and win more Grand Slams.
I think this is really something unique with him.
Q. Let me ask you about last year's Olympic Games. You were playing there, but there had been discussions about air quality before the games. Were you actually worried going there playing? How did you feel when you were actually playing there?
NOVAK DJOKOVIC: Well, I think it's passed a lot of time since then. I don't know why we should talk about it now.
But anyway, I think it was a very successful Olympic Games for me because I won a medal. So I have best memories from there. First time playing Olympic Games is an experience that every athlete wants to have.
But the air, yes, air was an issue. But it was not just for me, it was for all the players.
Interview from Wimbledon