居上位者 總是會背負著無形的壓力
球王球后的大滿貫賽事第一輪 也免不了要克服這種強大心理壓力的問題
年初被人稱為女版Djokovic之Azarenka 與正宗寶貝之Nole 在第一盤的態勢
(1) Victoria Azarenka (BLR) d. Alberta Brianti (ITA) 67(6) 64 62
(1) Novak Djokovic (SRB) d. Potito Starace (ITA) 76(3) 63 61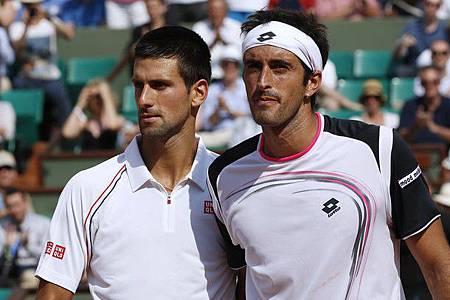 從表情就知道 寶貝很認真

更可明白 打天下容易 定天下不易 失天下卻可在轉瞬間 的道理
不過寶貝終究是寶貝
因為在賽後就喜歡這樣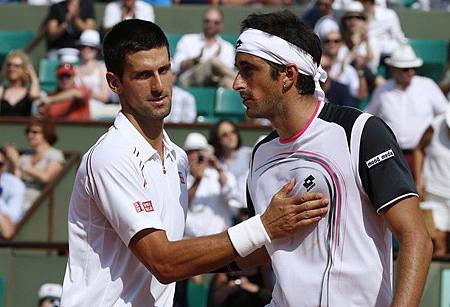 與敵手或親密接觸 或談笑風生
是說正式賽前的訓練時段
寶貝的搞笑一點也沒少過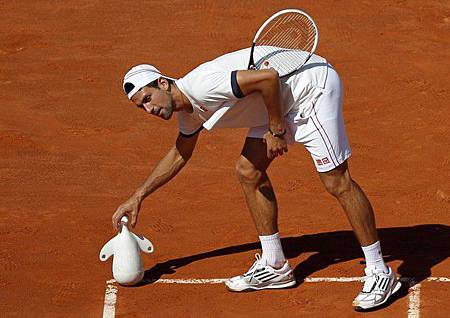 訓練也要耍寶一下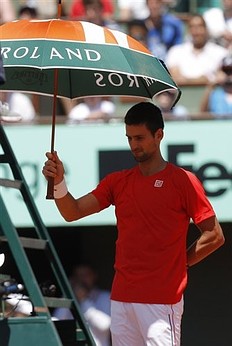 休息也要耍花樣當拿陽傘服務的球僮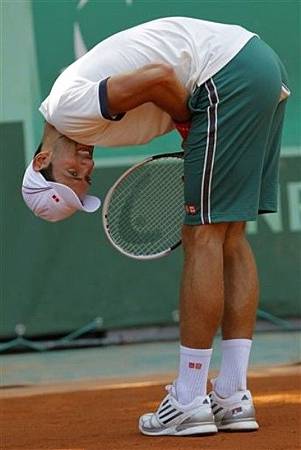 一下子又要娛樂眾生
真的是很忙的
由以上可以看到 換了家球衣品牌代言之後
他的休閒服還真的逐漸多彩起來
另外 重點在場外一下
跟好朋友Murray 這次是分在不同邊
要見面目前只能在訓練場邊囉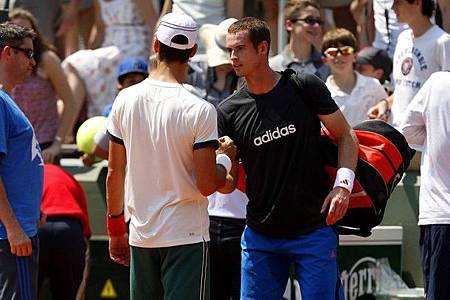 第一關闖過 接下來還是要好好應戰
不過 不要太過緊繃 當然也不能太過放鬆
總之 希望寶貝多多加油囉
for my reference:
Reuters 28 May 2012
Tennis-Djokovic keeps cool head as pressure mounts
Novak Djokovic showed great composure on and off court on Monday as he began his bid to become the first man in 43 years to hold all four grand slams simultaneously with a 7-6 6-3 6-1 win over Italian Potito Starace in the French Open first round.
The Serbian was dragged into a first-set tiebreak, which he won 7-3, before he gradually outpaced the world number 97 with a string of thundering winners.
Instead of trying to deflect all the pressure and attention that has been building up towards his title bid, Djokovic chose to embrace a sentiment voiced by tennis great Billie Jean King.
"Pressure is always present, and the way I look at it, it is a privilege and it's a challenge," Djokovic told a news conference.
"So you need to try to understand and learn how to deal with it, and if you feel pressure, that means that you're doing something that is right.
"So I'm happy -- I'm happy to be where I am at this moment."
Djokovic, who could meet third seed Roger Federer in the semi-final in a rematch of last year's epic last-four tie, is taking a down-to-earth approach to his quest.
"It doesn't give me an extra negative pressure. I really think it's a challenge and something to embrace and to enjoy," he said.
"I'll try to go step by step."
Starace put up a decent fight in the opening set and was only broken in the fifth game of the second before Djokovic, who did not face a single break point throughout, found his stride on a sundrenched Court Philippe Chatrier and raced home in just over two hours.
Djokovic next faces Blaz Kavcic after the Slovenian knocked out former world number one Lleyton Hewitt of Australia.
For my own concern subject :
French Open - Ferrero prepares for life after tennis
Almost a decade on from terrorising his opponents to win the 2003 French Open, Juan Carlos Ferrero is now looking forward to swapping his tennis headband for a business hat.
While fellow 30-something Roger Federer has not ruled out playing at the Rio Olympics in 2016, Ferrero cannot see himself punishing his 32-year-old body for another four years.
"I think there is a long life after tennis, so I've been preparing for this in the last four, five years... like (setting up the) hotel or the academy or the tournament in Valencia," Ferrero told reporters on Sunday after reaching the second round of the French Open.
During a career that has spanned 14 years, earned him 16 titles and almost $14 million in prize money, Ferrero has enjoyed being at the top of the sport.
However, in 2012 he has struggled to string together back-to-back wins, achieving the feat just once in eight tournaments this season, and will assess his future at the end of the year.
"Everything will depend on how fit I feel. If I feel in good shape and if I still feel motivated, and I'll also take a look at my ranking," said the 44th-ranked Spaniard, who owns the Hotel Ferrero, situated at the foot of the Mariola Mountains, near his native Villena.
"If I am at 80, 100, and I have to fight in the qualification rounds (and) after such a career, I can't start back from scratch.
"So, my intention was to continue playing until the end of this year. (From) October, I'll see how things go, and at the end of the year, if I'm ranking 25th or 30th, I'll continue.
"But if my ranking goes down to slot 80, 90, maybe I'll quit."
球迷有看的比賽為一號種子Nole跟十一號種子Simon的比賽
兩者都是第一盤緊張 第二盤開始搶分 特別是Simon這場 感覺打的地老天荒沒完沒了
球迷把高畫質轉播當BGM使用 都在忙手邊別的事
(1) Novak Djokovic (SRB) d. Potito Starace (ITA) 76(3) 63 61
(3) Roger Federer (SUI) d. Tobias Kamke (GER) 62 75 63
(7) Tomas Berdych (CZE) d. Dudi Sela (ISR) 63 64 61
(10) John Isner (USA) d. (Q) R Dutra Silva (BRA) 63 64 64
(11) Gilles Simon (FRA) d. Ryan Harrison (USA) 36 75 64 61