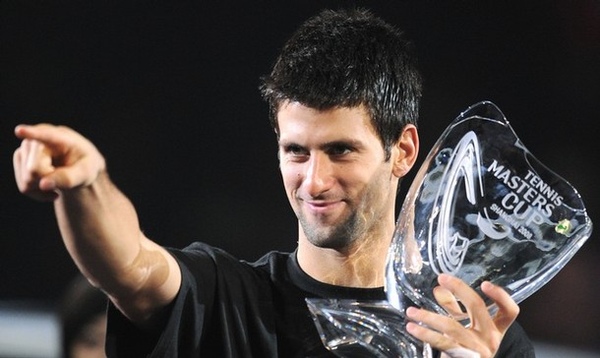 這小子今天可神哩!

第一盤,勢如破竹......第二盤碰到了小小的抵擋,

不過最後,還是戰勝了人家 Nikolay大哥哥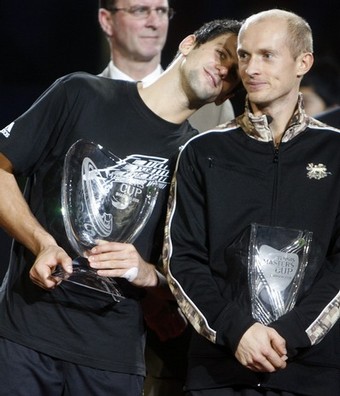 很神的理由是?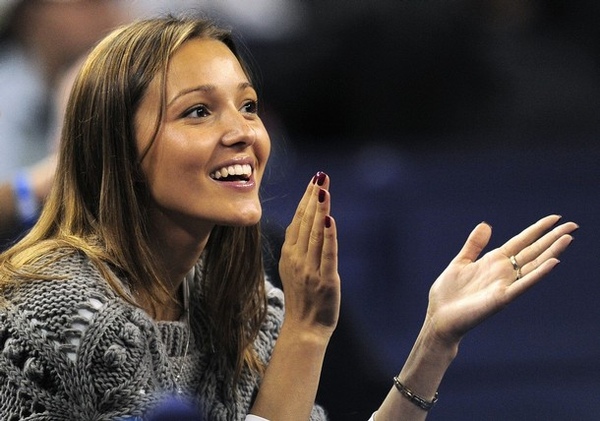 場邊有位清純亮眼的女朋友Jelena Ristic的加油嗎?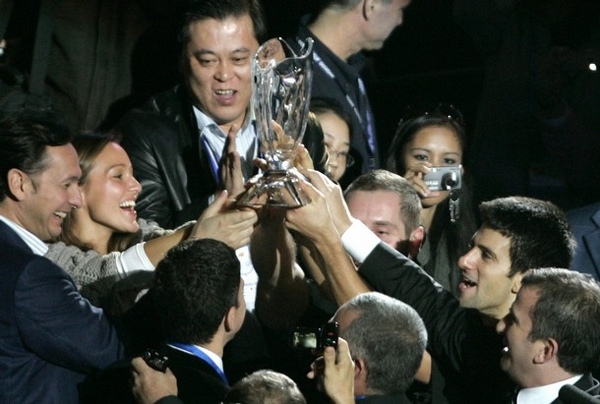 同時也有家人及教練團隊的共同支持

就連跟對手,也一個勁兒的,很友好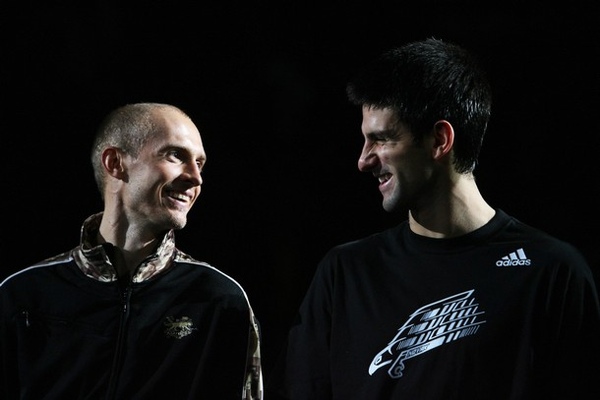 Nikolay大哥哥人好幽默喔!

"What was on my mind on the last point?
I was thinking 'Oh, great, the season's over',"

said Davydenko.

"Against Djokovic you need to be perfect and also play very fast and very well. That's what he did, and I didn't … Normally I play very fast and have very good control and today I didn't. Djokovic played very well. For me I think today was a very difficult day." said Nikolay Davydenko.

不過最寶的當然還是本屆MASTER CUP的冠軍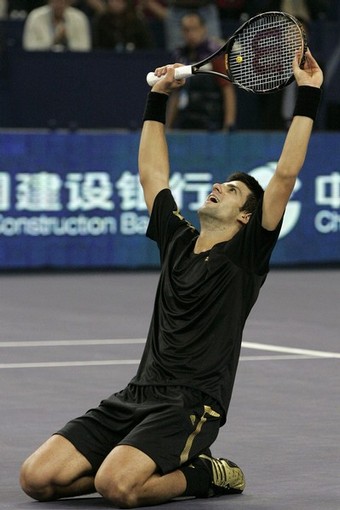 或許他也跟Nikolay大哥哥想的是一樣也說不定...

賽季結束了, 哇! 可以去玩了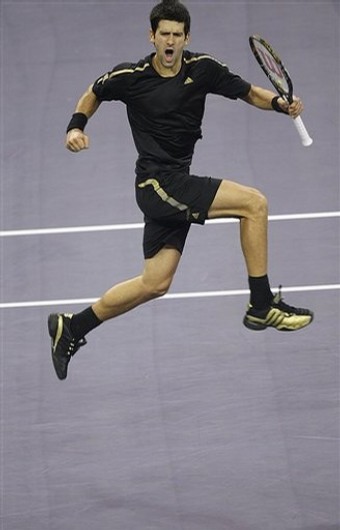 想到這,真的會很高興......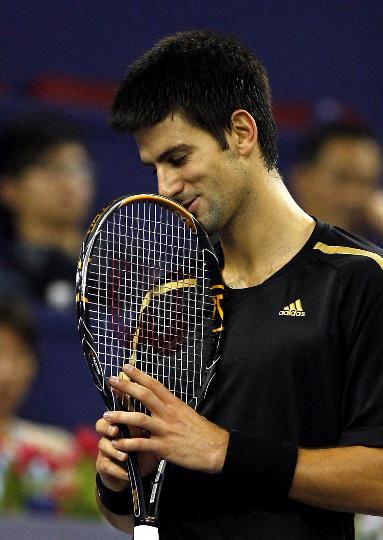 所以,
今天摔拍不是摔到地上,而是摔到天空......跟觀眾們分享喜悅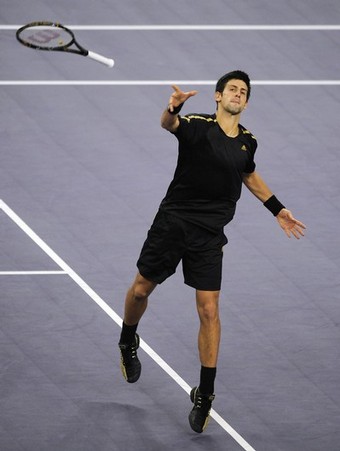 能夠在年底有個美好的結束,
也算是給自己及球迷們一個很好的交待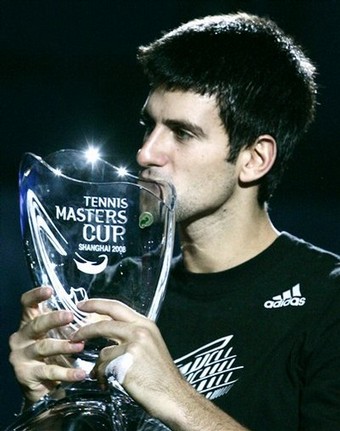 The Australian Open champion, who lost all of his matches without winning a set on his debut at the season finale last year, played his best tennis of the week in the final at the Qi Zhong Stadium.
The 21-year-old Djokovic celebrated by kissing the court and tossing his racket and shirt into the crowd after seeing off Davydenko in one hour and 42 minutes.
"I'm very, very happy," he said. "It's a great achievement for me. The best eight players playing here says everything about the quality of the event and I would definitely put it on a level with the Grand Slams."


附帶說明男子雙打冠軍是:

Nenad Zimonjic and Daniel Nestor defeated Bob and Mike Bryan 7-6(3), 6-2 to win the Tennis Masters Cup Shanghai title and clinch the year-end No. 1 team ranking.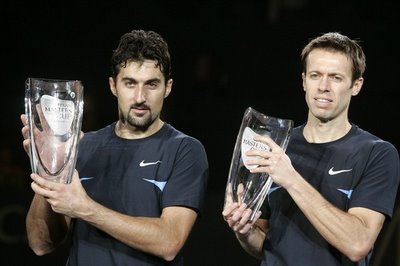 雙打冠軍是塞加組合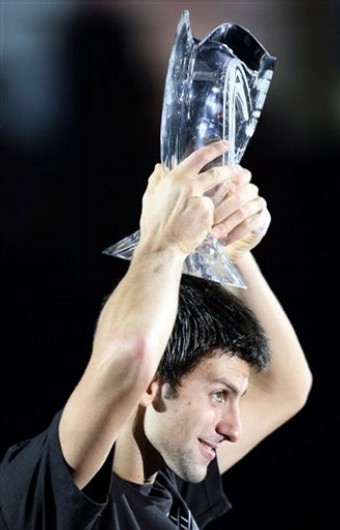 勝利戴冠充滿歡喜


Djokovic played almost perfect tennis and completely dominated the experienced Russian in the first set and looked on course for an empathic quickfire win. Davydenko responded in the second set but Djokovic deservedly claimed the title in one hour and 42 minutes to take home a cheque for US$1.24million.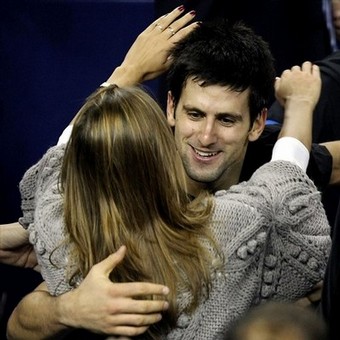 勝利果實還可跟美女分享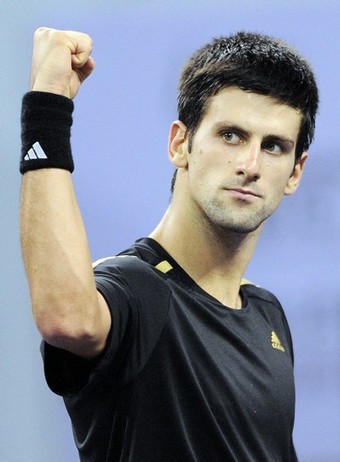 Master Cup得主 世界第三的Djokovic寶貝,拿得很穩當!!
Eurosport -
Masters Cup - Djokovic targets Nadal spot
Sun, 16 Nov 2008
Novak Djokovic aims to fulfil his lifetime goal of becoming world number one next year after winning the season-ending Masters Cup.
The 21-year-old Serbian started the year with his first Grand Slam title at the Australian Open and ended it with a 6-1 7-5 victory over Russian Nikolay Davydenko to close within 10 ranking points of world number two Roger Federer.
"Certainly I believe that I have the quality to reach the top spot in the upcoming year or next couple of years, (maybe) 10 years," he said.
"That is my lifetime goal that I've been always trying to achieve. But I have learned a lesson. If I pay too much attention to rankings, it doesn't go the right way."
While conceding that Rafael Nadal deserved to finish the season as the top player, Djokovic was pleased to see new younger players challenge the Spaniard and Swiss Federer.
"Now it's not only about the two players any more," he said. "It's about five, six, seven players who are playing really well and can win against each other.
"I think it's good for the sport to see some new faces playing the final stages of the major events."
Djokovic was particularly pleased with his victory on Sunday because he had lost his last three finals - at Queen's, the Cincinnati Masters and in Bangkok - and not won a title since the Rome Masters in May.
"I didn't manage to win a couple of finals, but I've done it now," said the Serbian, who also won the Masters Series event in Indian Wells in March.
"I ended up the season the way I started it, with a win in a big event. So it's a great boost for the upcoming season."
Serbian tennis has had a good year with Jelena Jankovic the number one woman and Nenad Zimonjic teaming up with Belgrade-born Canadian Daniel Nestor on Sunday to win the Masters Cup and take the number one spot in doubles.
"I think Serbia's getting used to number one so I'll have to work on that, I guess," joked Djokovic. "Probably the fact that we didn't have the best possible conditions gave us more motivation to succeed."