Unbelievable的事情連發
溫布敦的Day 3 充滿了變數與驚奇
七位選手在同一天傷退
男女兩邊的第三號種子在同一天被KO回家 二輪游
這想必讓Nike頗傷腦筋吧 哈哈哈~~~
不算Day1就一輪遊的Nadal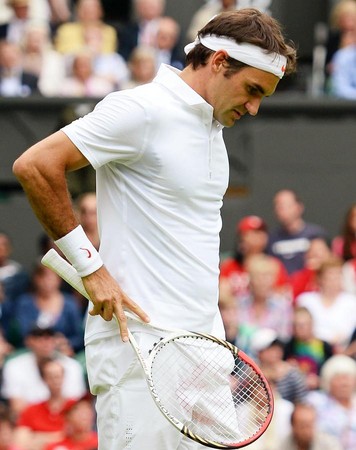 溫布敦七屆冠軍得主 本屆第三種子的 Federer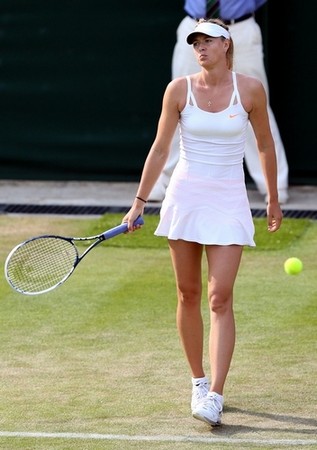 拿過溫布敦后冠的本屆第三種子的 Sharapova
這三大Nike廣告看板人物紛紛Say good-bye 廣告效應也瞬間歸零
今年度的Nike白色戰袍不都還沒有好好show到嗎
不說別的 就說milanhime好了 這三人比賽一場都沒看到耶 真冏
(*特別是Federer 每年比賽進場及退場時所穿的運動外套 都設計的非常好看
到了冠軍決賽 他更會秀出special design的所謂冠軍勝負袍哩! 這會不就通通沒得看了...... )
簽表下半部的選手 在3,5,10,18種子全部掉隊後 一整個變得不可預期
Murray這邊的簽表一整個變成人人有機會進八強 拿到終生可以出入溫布敦之全英俱樂部通行證
原本以為寶貝可以偷笑的簽表 一整個變成Murray可以偷笑的簽表
嗯....所謂的地主優勢
這.......難不成溫布敦的草地都是心向主子的嗎 (Just joking!)
After a host of big names tumbled out of Andy Murray's side of the draw, things are looking a bit tougher for world number one and 2011 champion Djokovic.
The Serb still has the likes of David Ferrer, Tomas Berdych and Juan Martin del Potro remaining in his half, but his second-round match against Bobby Reynolds of the USA should not be too taxing.
下半簽表經過兩個比賽日之後 種子凋零(3,5,6,10都bye-bye)
一下子就顯得寶貝身屬的上半部簽表 實在有夠硬的啦
Ferrer(4), Berdych(7), Del Potro(8),Gasquet(9) 哇! 好可怕呀!
哈哈 這就證明人的感覺真的是很相對的呀!
Day 4 今天開打 所有種子都不能掉以輕心 因為今年溫布敦風雲變色 詭譎不已
身為種子一點"保障"都沒有 還是看實力與運氣囉
寶貝下一關面對的是美國選手Bobby Reynolds 還是小心為妙
Round 2 results:
2-Andy Murray (Britain) beat Lu Yen-Hsun (Taiwan) 6-3 6-3 7-5
Sergiy Stakhovsky (Ukraine) beat 3-Roger Federer (Switzerland) 6-7(5) 7-6(5) 7-5 7-6(5)
Ernests Gulbis (Latvia) beat 6-Jo-Wilfried Tsonga (France) 3-6 6-3 6-3 0-0 (Tsonga retired)
Kenny De Schepper (France) beat 10-Marin Cilic (Croatia)WO
15-Nicolas Almagro (Spain) beat Guillaume Rufin (France) 7-5 6-7(6) 6-3 6-4
Adrian Mannarino (France) beat 18-John Isner (U.S.) 1-1 (Isner retired)
20-Mikhail Youzhny (Russia) beat Vasek Pospisil (Canada) 6-2 6-7(3) 7-6(7) 3-6 6-4
22-Juan Monaco (Argentina) beat Rajeev Ram (U.S.) 5-7 6-2 6-4 6-2
24-Jerzy Janowicz (Poland) beat Radek Stepanek (Czech Republic) 6-2 5-3 (Stepanek retired)
25-Benoit Paire (France) beat Stephane Robert (France) 6-4 7-5 6-4
Fernando Verdasco (Spain) beat 31-Julien Benneteau (France) 7-6(1) 7-6(4) 6-4
32-Tommy Robredo (Spain) beat Nicolas Mahut (France) 7-6(3) 6-1 7-6(5)
Viktor Troicki (Serbia) beat Andrey Kuznetsov (Russia) 6-4 6-3 6-4
Dustin Brown (Germany) beat Lleyton Hewitt (Australia) 6-4 6-4 6-7(3) 6-2
Lukasz Kubot (Poland) beat Steve Darcis (Belgium)WO
Jurgen Melzer (Austria) beat Julian Reister (Germany) 3-6 7-6(2) 7-6(5) 6-2
data for reference:
Wimbledon - Seismic shock as Stakhovsky dethrones Federer
Roger Federer and "his ego" took an unbelievable battering at the hands of a little-known Ukrainian as the Swiss champion and holder of a record 17 Grand Slam titles was sent spinning out of Wimbledon on a day dubbed as 'Whacky Wednesday'.
A record that took 36 Grand Slams and nine years to create was turned on its head by 116th-ranked Sergiy Stakhovsky who rocked the All England Club to its core as he inflicted a brutal 6-7(5) 7-6(5) 7-5 7-6(5) second-round defeat on a man he called a "Wimbledon legend".
That 'legend' had enjoyed a remarkable run of reaching 36 consecutive Grand Slam quarter-finals or better dating back to 2004, won seven titles at the spiritual home of lawn tennis and had not lost to a player ranked outside the top 100 for over eight years.
It took a serve-and-volley loving man who had never beaten a top 15 player in his 27-year-old life to shatter the glass ceiling.
"I'm still in disbelief that actually happened," a sweat-drenched Stakhovsky said moments after rolling on the most famous tennis stage in triumph.
"When you play Roger Federer at Wimbledon, it's like you're playing two persons. First you play Roger Federer and then you play his ego."
Federer's ego certainly took a hammering on a beautiful summer's day that started off routinely for the Swiss great as he nonchalantly ambled into the All England Club holding the hands of his twin daughters Myla Rose & Charlene Riva.
But by the time he walked on to Centre Court at 5.08 pm local time, day three of the grasscourt Major had already taken a surreal turn after seven players withdrew injured and third seed Maria Sharapova stumbled to defeat.
But three hours later, those tales of woe had been reduced to a footnote as Federer slapped a backhand wide on match point down to send shockwaves around the globe.
"All time craziest days at Wimbledon - ever!" exclaimed a disbelieving John McEnroe.
Federer has suffered some painful defeats in his life, including the thrilling five-set final in 2008 against great rival Rafa Nadal, but he could not mask his pain on Wednesday.
"It's always a disappointment losing any match around the world, and particularly here. It was a tough loss today. Some haven't hurt this much, that's for sure," Federer said after discarding his on court all-whites for a striped tee-shirt and sky-blue jeans.
"It's a great number (36). I can be proud of it... but that's (not) something (I am) going to mourn," added the third seed, whose defeat left a gaping hole in the bottom half of the draw following Nadal's departure in the first round.
No one could have predicted such an outcome when Federer had serenely glided through the first set by firing down nine aces, no double faults and 20 winners.
Stakhovsky played his part as entertaining challenger to perfection - hitting between-the-leg trick-shots, diving after volleys and trying to throw Federer off balance with attempted lobs. They all earned him wild applause, as did the two break points he earned, but at the end the set was Federer's, snapped up with a screaming 123 mph ace.
The Ukrainian journeyman earned another break point in Federer's opening service game in the second set but the 31-year-old took care of that with a smash that bounced off court and right through the players' entrance behind the green backstop.
Federer also saw two break points disappear into the ether in the 11th game before the duo headed into another tiebreak.
At 5-5 there was no hint of the drama that was about to unfold but a forehand error from the Swiss and a blazing passing shot winner from Stakhovsky set pulses racing on a hushed Centre Court.
Two more break points came and went for Federer at the start of the third and he paid a mighty price for the miss as Stakhovsky pounced in the 11th game to register the first break of the match two hours and eight minutes into the absorbing contest.
That left a group of five women kitted out in red RF hats, earrings, tee-shirts, sweatbands and handbags all looking rather dazed and muted as their hero seemed to be heading towards the ultimate Wimbledon nightmare.
Federer's hold on the gilded Challenge Cup started unravelling at an even quicker pace as he fell 3-1 behind in the fourth set if there was any doubts about what Wimbledon meant to him, a whistling backhand that almost decapitated a net-charging Stakhovsky left no doubts.
After two hours and 34 minutes of rivetting drama and seven previous failed attempts, Federer finally broke the Stakhovsky serve.
But that only proved to be a momentary reprieve as Stakhovsky kept up the serve-and-volley onslaught and with the clock moving dead on to three hours, he put a full stop on to what had been a remarkable run of results on the biggest stages of world tennis.
While Federer's was condemned to his earliest exit at Wimbledon since a first round loss in 2002, Stakhovsky was already excited about what the future holds for him.
"Right now I can definitely tell my grandkids, I kicked the butt of Roger Federer!" he grinned.